Volunteer at the FEI World Equestrian Games™ Tryon 2018! 
Create an account on the Volunteer Portal now, as position signups are now available! Click the image below for access to the Volunteer Portal.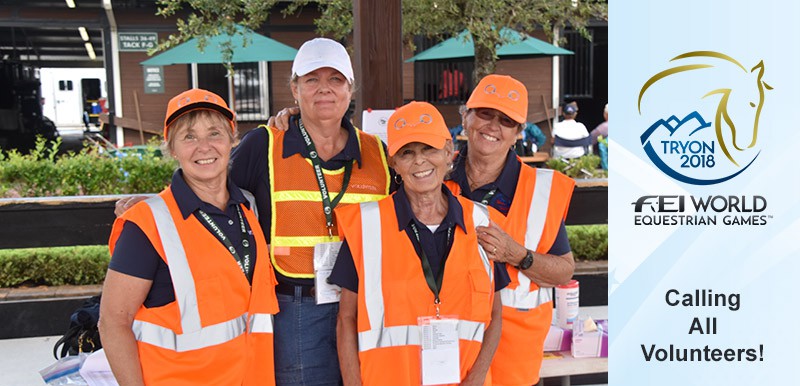 Click the image above to access the Volunteer Portal and Position Signups!
Tryon 2018 Management has identified roughly 9,000 volunteer positions over 3 weeks, working 2-3 shifts per day. Approx 8,000 of this positions are supporting the operations (non-Equestrian) side of WEG, and 1,000 supporting the Equestrian Discipline Managers and Vet Team.
In Normandy and Lexington, there were an average of 3,600 individual volunteers recruited, trained, and managed. We expect 3,500 to 4,000 will be selected for Tryon.  We have received inquiries online from 4,000 people interested in more information about the recruitment process. The Volunteer Portal is available HERE.
The Volunteer Recruitment pathway is as follows:
Potential volunteers must create a Volunteer Profile, which is required for all WEG Test Event,  WEG, and TIEC volunteer positions.
Creating a Volunteer Profile includes entering security information, answering vetting questions, and completing uniform payment ($35).
WEG Volunteer position signups are now available through the Portal.
Helpful Documents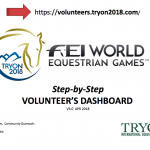 Step-by-step Volunteer Portal Instructions:
Click the image on the left for a step-by-step guide on using the Volunteer Portal dashboard.
Community Hosting Initiative:
The Tryon 2018 Volunteer Community Hosting Initiative seeks community members to host volunteers in their homes.  Please see homeowner application below.  Currently our inventory of homes to place volunteers is saturated.  All volunteers who have submitted applications have been placed on a wait list until more homes are added.
For Community Hosts: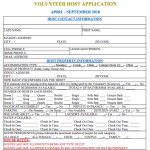 Click the image to the left for the Community Hosting Initiative Host Application.
Volunteer FAQ:
What can a volunteer expect? Camaraderie & FUN! The Tryon WEG 2018 Volunteer Corp is comprised of exceptional individuals who have been selected to serve based on unique skills and abilities. They serve to support officials and staff in preparation for and during the WEG. Not everyone who signs up is selected!
Volunteers will receive credentials to enter the events where they are working, free of charge, for use on the days they are working. We cannot guarantee that volunteers will be positioned to "see" the WEG events while they are on duty.  
Credentials will be coded to allow entry to a Volunteer Canteen for meals on days of service. Volunteers will receive scheduled breaks.
The Volunteer Management Program will assist volunteers with lodging. Two options are available: rental and complimentary. Volunteers requesting complimentary housing will be hosted by local families in the community within a 1.5-hour radius from the venue.
Volunteers must purchase a uniform package for $35. This package includes, at minimum: a hat, a pin, and a number of shirts reflective on number of consecutive days schedule to volunteer. Volunteers are expected to wash and wear shirts multiple times.
Volunteers will receive a foundation orientation and specific training prior to WEG. An online portal with login and password accessibility will be the "center of knowledge" for volunteers to access their schedules and updates from Discipline Managers and Operations Managers.