Corporate Hospitality Packages
Don't miss an opportunity to host clients, colleagues, and friends at what is expected to be the largest sporting event in North America in 2018 coming right here to North Carolina!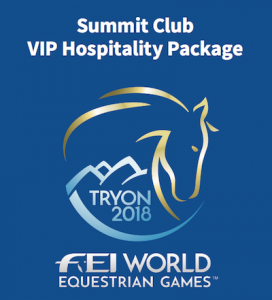 Click here to view our Summit Club Hospitality Packages.
For information regarding Corporate Hospitality & VIP Packages at the FEI World Equestrian Games™ Tryon 2018, please contact:
Jan Ivey at jivey@tryon.com or at 828-863-1470.
WEG Patron of the Games Hospitality Package
For more information on this exclusive and limited hospitality package, which includes a 3-bedroom cabin onsite at Tryon Resort, please contact:
Anne Caroline Valtin at acvaltin@tryonweg.com.