WEG online store now open; superstore planned for event venue
For Immediate Release
Tryon, NC USA – April 23, 2018 – Tryon International Equestrian Center (TIEC) is pleased to announce its new partnership with Dyehard Fan Supply as the "Official Merchandiser" for the FEI World Equestrian Games™ Tryon 2018 (WEG), taking place in Tryon, NC this September 11-23. The WEG online store is now open to showcase a sneak peek at a selection of the 250-plus products, with limited items also available for purchase onsite at TIEC in time for some of the WEG Test Events. Products can be previewed online at www.Tryon2018.com.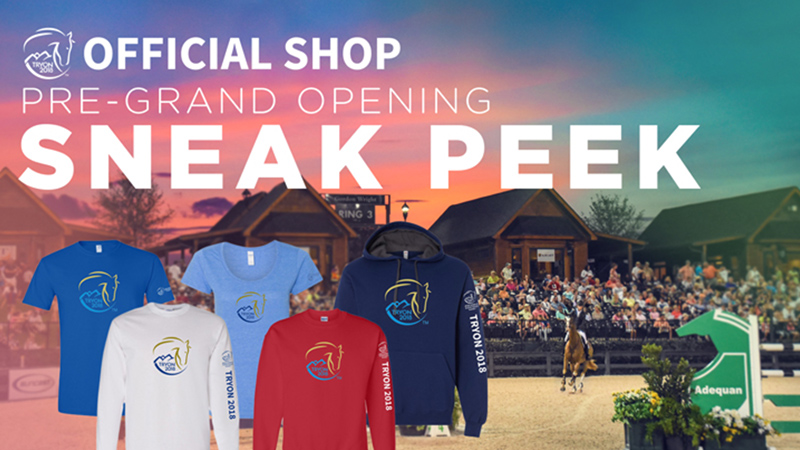 With roots dating back to 1978, Dyehard has a large national and international presence and offers turn-key event programs inclusive of retail merchandising, e-commerce and wholesale distribution. TIEC is delighted to partner with another North Carolina-based company, located less than a three-hour drive away in Winston-Salem.
As a leader in special event merchandising, Dyehard recently acquired certain assets of All Pro Championships, which handled event merchandising for many highly-regarded equestrian events including the FEI World Equestrian Games™ Kentucky 2010, the Kentucky Derby, the Preakness Stakes and the Pegasus World Cup. In addition to equestrian events, Dyehard has handled merchandising programs for many of America's most notable sporting events and organizations, including the NBA finals, the World Series, Davis Cup tennis, the MLB All-Star Game, the America's Cup, US Open, USTA Jr. Team Tennis & League National Championships, the TCS New York City Marathon as well as professional football championships.
As the Official Merchandiser of the WEG 2018, Dyehard will launch an online event store in advance of the Games, as well as an onsite superstore at TIEC during the WEG. Altogether, there will be nearly 300 different WEG items available, including t-shirts, sweatshirts, caps and jackets, in addition to lapel pins, housewares, saddle pads, posters and much more. Products in the official online store will periodically be unveiled leading up to the event, in anticipation of the opening of the onsite superstore.
Dyehard will also distribute WEG merchandise to regional and national retailers. Companies interested in a sub-licensing agreement should send an inquiry to merch@tryonweg.com.
"We are thrilled and honored to have been selected by the Tryon International Equestrian Center as the Official Merchandiser for the 2018 FEI World Equestrian Games," Dyehard Fan Supply CEO Rex Hough said. "The Dyehard team offers tremendous depth of experience with large scale events, and we are particularly passionate about being part of the 2018 FEI World Equestrian Games, which will take place in our home state of North Carolina. The Tryon International Equestrian Center is an incredible venue, and we cannot wait to play a part in what will surely be an unforgettable event."
Mark Bellissimo, managing partner of Tryon Equestrian Partners commented, "we are offering a huge and diverse collection of merchandise and memorabilia for this iconic global event and appreciate the level of experience and expertise that Dyehard Fan Supply is bringing to this WEG."
An anticipated 1,000 athletes, 1,500 horses, and 500,000 spectators from more than 70 countries are expected to attend the WEG. Tryon 2018 is projected to be the highest-attended sporting event in the United States in 2018, with tickets already sold to people from all 50 U.S. states and 41 countries.
To purchase tickets or for more information about the WEG, please visit www.tryon2018.com.
Click here to watch the FEI World Equestrian Games™ Tryon 2018 promotional video.
Media Inquiries
For media inquiries about the FEI World Equestrian Games™ Tryon 2018, please contact one of the following press officers:
National Press Officer – Carly Weilminster at cweilminster@tryonweg.com  or +1 (828) 863-1144
International Press Officer – Niki McEwen at niki@revolutionsports.co.uk or 0044(0) 203 176 0355
For more information from the FEI, please contact Shannon Gibbons at shannon.gibbons@fei.org or 0041-78-750-6146.
About Dyehard Fan Supply
Dyehard Fan Supply is an event and retail merchandise marketing and e-commerce company.
 A customer-service focused company that operates nationwide and in some international locations, Dyehard offers an expansive network of best-in-class merchandise companies that produce the finest quality merchandise for sporting events including college and professional sports teams, tennis and golf tournaments, bowl games, music concerts and festivals, races and Broadway musicals. For more information, please visit dyehardfansupply.com.  
About the Tryon International Equestrian Center
The Tryon International Equestrian Center at Tryon Resort, host of the FEI World Equestrian Games™ Tryon 2018, is one of the world's premier equestrian lifestyle destinations. From carousel to competition, the mission of Tryon Resort is to celebrate the magic of the horse, grow equestrian sport, and increase access to this majestic animal. With first-class facilities for hunter/jumper, dressage, and eventing competitions, the facility will soon accommodate all eight equestrian disciplines. Tryon Resort is a spring, summer and fall haven for equestrian competitors and enthusiasts, and a year-round destination for connoisseurs of diverse cuisine and shopping, lodging getaways, and family entertainment. Learn more at www.tryon.com or follow Tryon International Equestrian Center & Tryon Resort on Instagram, Twitter, and Facebook.
About the FEI World Equestrian Games™
The FEI World Equestrian Games™, held every four years in the middle of the Olympic cycle, is the property of the Fédération Equestre Internationale (FEI), the world governing body for horse sport recognised by the International Olympic Committee (IOC). It is one of the biggest events on the global sporting calendar, combining World Championships in the Olympic disciplines of Jumping, Dressage and Eventing, the Paralympic discipline of Para-Equestrian Dressage, as well as Driving, Endurance, Vaulting and Reining.
The inaugural FEI World Equestrian Games™ were hosted in Stockholm (SWE) in 1990. Since then the Games have been staged in The Hague (NED) in 1994, Rome (ITA) in 1998, Jerez (ESP) in 2002, and Aachen (GER) in 2006. The first Games to be organised outside Europe were the Alltech FEI World Equestrian Games™ in Kentucky (USA) 2010. The Games came back to Europe for the 2014 edition, the Alltech FEI World Equestrian Games™ in Normandy (FRA), which attracted more than 500,000 on-site spectators and a worldwide television audience of 350 million, as well as delivering an economic impact of €368 million to the French economy.
The FEI World Equestrian Games™ History Hub can be viewed here:
For more information, visit www.tryon2018.com and http://www.fei.org/tryon-2018.
###