For Immediate Release
TRYON, NC, USA – August 9, 2018 – Volunteer applications continue to be accepted for the FEI World Equestrian Games™ Tryon 2018 (WEG) to fill more than 9,000 positions, one-third of which are still available. The Games are held every four years in the middle of the Olympic cycle, and are the major international championship for all eight disciplines administered by the Fédération Equestre Internationale (FEI), the worldwide governing body of equestrian sport. Volunteers will have the opportunity to experience this global sporting event firsthand from September 11-23, 2018, at Tryon International Equestrian Center (TIEC) in Tryon, North Carolina.
The WEG will welcome athletes from 70 countries and host almost 1,000 top equine competitors and horses. Volunteers will play an important role in ensuring the Games run smoothly for athletes, spectators, and operational staff, and the WEG Volunteer Recruitment Program is seeking enthusiastic, friendly volunteer candidates to join the team.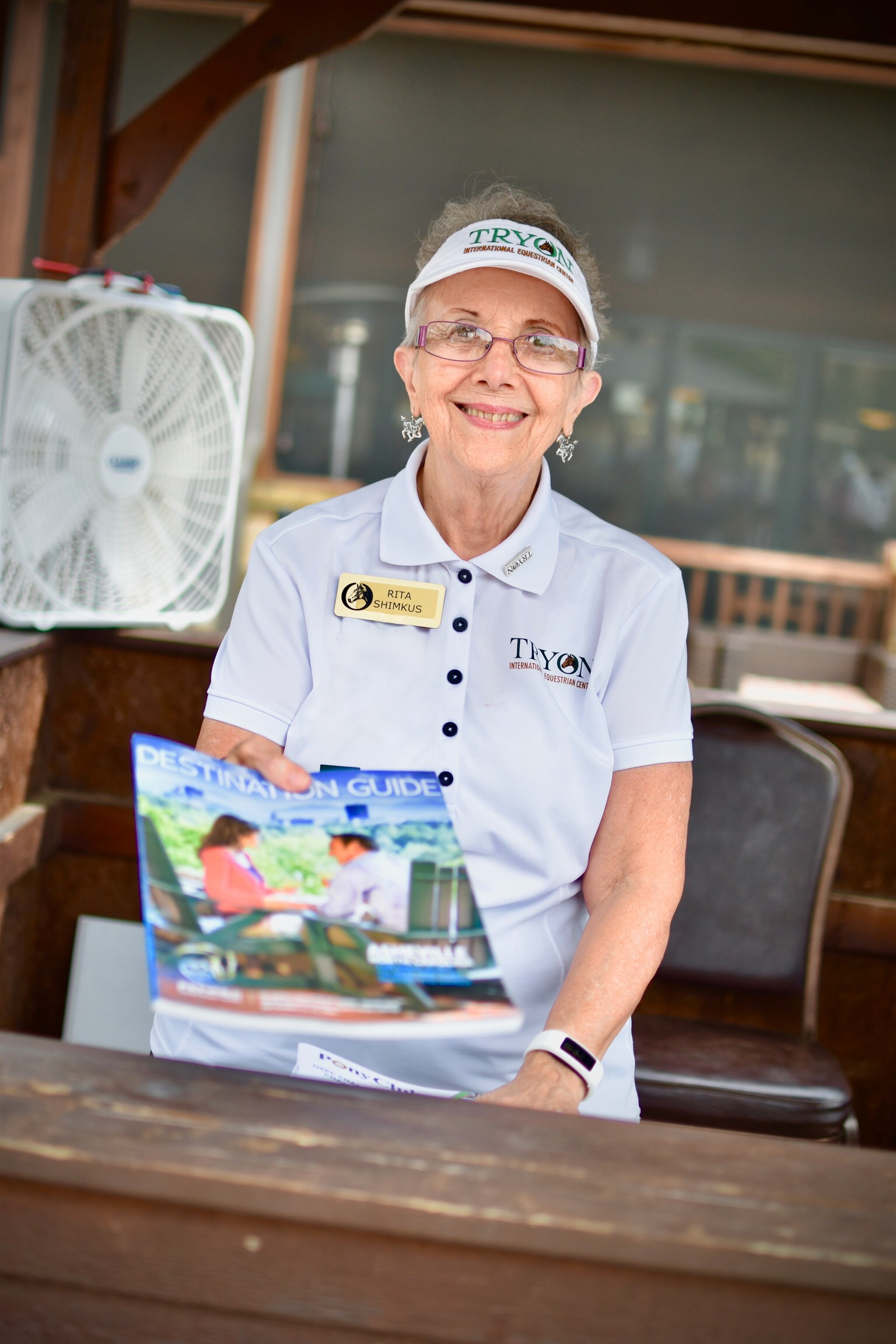 An estimated 2,500 people are needed to cover the 7,500 volunteer positions available over the three weeks, with two to three six-hour shifts available per day for operational positions ranging from greeters, ushers, and golf cart drivers to marketing and media positions, information services and more.
While more than 1,100 people have already signed up, TIEC is still in need of volunteers to help make the event experience exceptional for all attendees and participants. Many of the people who have signed up for WEG are from TIEC's current volunteer roster and speak of the personal fulfillment they receive as a volunteer at the venue.
Volunteer Mary Taylor explains, "It is wonderful to be a part of something so fun and exciting: to watch the glimmer in a child's eyes as they participate in fun activities, to see the excitement in the rider's face after a great event, to hear an equestrian describe TIEC as an 'the most unbelievable venue you can imagine'. It is a fantastic opportunity to be a part of the complete experience at Tryon International Equestrian Center."
Jane Lynch mirrored Taylor's sentiments stating, "It's been a good experience. I've done volunteer hospitality for both Forks, the AECs and the WEG Test Events [at TIEC]. It's a really happy job."
How to Apply
To apply, visit the WEG Volunteer Portal at volunteers.tryon2018.com and complete the following process:
Create a profile or login to a pre-existing account.
Complete all required components of a Volunteer Profile, including: entering security information and answering vetting questions.
Select "Upcoming Events," then select "Event Days."
Volunteers will not receive a call or email confirming placement, but will be able to view the status change on the Volunteer Portal.Upon approval, login to the TIEC Volunteer Portal to check or make updates to your schedule. An email will be sent notifying all volunteers when the online orientation is available.The uniform package includes a complimentary hat, "Team Tryon" pin, and several branded uniform shirts dependent on the duration of consecutive days scheduled per volunteer. Volunteers will also receive credentials and parking pass, as well as access to the Volunteer HQ for snacks and meals for the days they are working. Access to watching events is limited and seat access based on availability during the week(s) volunteers are working.

Volunteers who have been approved for three shifts can request complimentary housing at the Shelby Mission Camp or secure a rental through the lodging portal on Tryon2018.com here. The Community Hosting Initiative Host Application is available at Tryon2018.com under the Volunteer tab for home owners interested in hosting WEG volunteers.

"We have already received an immense amount of interest, so please take a moment to apply today," said Director of Community Outreach Kathryn McMahon. "Volunteering is a brilliant way to get involved in this phenomenal event that will surely make incredible new connections and memories for all. We hope you will join us as we form a strong volunteer team of exceptional individuals for the FEI World Equestrian Games Tryon 2018."

For more information, please visit www.Tryon2018.com.

For the most updated WEG information, please sign up for the newsletter online at www.Tryon2018.com or follow @Tryon2018 on social media.

Media Inquiries
For media inquiries about the FEI World Equestrian Games™ Tryon 2018, please visit www.tryon2018.com or contact one of the following press officers:

National Press Officer – Carly Weilminster at cweilminster@tryonweg.com or +1 (828) 863-1144

International Press Officer – Niki McEwen at niki@revolutionsports.co.uk or 0044(0) 203 176 0355

For more information from the FEI, please contact Shannon Gibbons at shannon.gibbons@fei.org or 0041-78-750-6146.

ABOUT THE TRYON INTERNATIONAL EQUESTRIAN CENTER

Tryon International Equestrian Center at Tryon Resort, host of the FEI World Equestrian Games™ Tryon 2018, is one of the world's premier equestrian lifestyle destinations, with first-class facilities for all eight FEI disciplines. From carousel to competition, the mission of Tryon Resort is to celebrate the magic of the horse, grow equestrian sport, and increase access to this majestic animal. Tryon Resort is a spring, summer and fall haven for equestrian competitors and enthusiasts, and a year-round destination for connoisseurs of diverse cuisine and shopping, lodging getaways, and family entertainment. Learn more at www.tryon.com.

ABOUT THE FEI WORLD EQUESTRIAN GAMES™

The FEI World Equestrian Games™, held every four years in the middle of the summer Olympic cycle, is the property of the Fédération Equestre Internationale (FEI), the world governing body for horse sport recognised by the International Olympic Committee (IOC). It is one of the biggest events on the global sporting calendar, combining World Championships in the Olympic disciplines of Jumping, Dressage and Eventing, the Paralympic discipline of Para-Equestrian Dressage, as well as Driving, Endurance, Vaulting and Reining.

The inaugural FEI World Equestrian Games™ were hosted in Stockholm (SWE) in 1990. Since then the Games have been staged in The Hague (NED) in 1994, Rome (ITA) in 1998, Jerez (ESP) in 2002, and Aachen (GER) in 2006. The first Games to be organised outside Europe were the Alltech FEI World Equestrian Games™ in Kentucky (USA) 2010. The Games came back to Europe for the 2014 edition, the Alltech FEI World Equestrian Games™ in Normandy (FRA), which attracted more than 500,000 on-site spectators and a worldwide television audience of 350 million, as well as delivering an economic impact of €368 million to the French economy.

The FEI World Equestrian Games™ History Hub can be viewed here.

For more information, visit www.tryon2018.com and http://www.fei.org/tryon-2018.