Exclusive Q&A With Dressage Discipline Manager, Thomas Baur
DRESSAGE is the ultimate expression of communication and elegance between a horse and athlete, and has rapidly grown in popularity each year around the world. The Olympic discipline is often compared to ballet, with a scoring system similar to ice skating. The harmonious connection between the human and equine athletes allows each pair to perform an intricate pattern of movements to a musical style of choice from Top 40 hits to classical favorites and everything in between. Each Dressage performance is scored by a seven-member judging panel.
The movement cues are barely perceptible and the result is a beautiful and graceful display of the bond between horse and rider. This dynamic, elegant, and majestic combining of athleticism, harmony and communication between horse and rider is not to be missed!
THOMAS BAUR, Dressage and Para-Dressage Discipline Manager for the FEI World Equestrian Games™ Tryon 2018 (WEG), currently serves as the Event Director for all CDIs and CPEDIs in Wellington, Florida, as well as other CDIs throughout Europe. He has played various roles in European Show Jumping, Eventing and Dressage, and was the Dressage Director for the 2017 FEI World Cup™ Final in Omaha, Nebraska.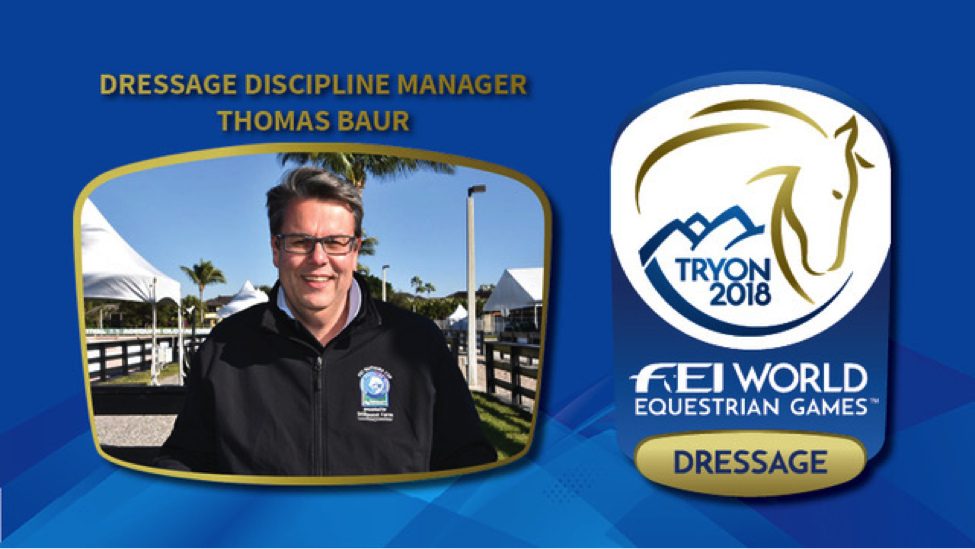 Check out his exclusive Q&A below to learn what it takes to produce Dressage at WEG and bring the world's best to Tryon!
Q: How would you describe Dressage to someone who's never seen it before?
A: Dressage is an equestrian sport where the horse and rider perform a test of specific movements in an arena, where they are judged on the horse's obedience, acceptance of the bit, gaits, impulsion and harmony between horse and rider. It is often described as horse ballet, and it takes many years for horse and rider pairings to achieve the advanced levels of athleticism seen at WEG – more so than many other disciplines.
Q: What does it take to prepare for this discipline at WEG?
A: As a Discipline Manager, my main focus is on the teams, athletes, horses and grooms, providing the opportunity for the best performances possible with top conditions for them. I'm working with Tryon management to communicate large-scale and minute details in order to host the best event possible, from spectator experience to the logistics of the pathways, Dressage athletes will travel from barns to the International Stadium. It takes a team of more than 100 officials, volunteers and staff to produce Dressage at WEG, so ensuring we have the resources we need is a key responsibility as I work toward making Dressage run smoothly in September.
Q: What about this venue is exciting for hosting the discipline?
A: Tryon is a beautiful place, and is the best venue I have ever worked at. The attention to detail, layout, footing, and stabling are all excellent, and ideal for hosting Dressage competition. For horses and riders, it is a top place to compete, and for staff and volunteers, it also offers everything you need to put on a great competition. It is a very horse-friendly facility, but also offers outstanding opportunities for spectators and vendors, too. Tryon 2018 will definitely be an event to remember.
Q: From a sport perspective, what should spectators watch for this year?
A: All of the top riders and horses from all over the world will be here in the US for this unique and exciting competition. These athletes will be aiming to perform the best tests of their lives in September, and it will be thrilling to watch. There will be several strong teams to keep an eye out for including riders from the host country, the German powerhouse, Sweden, Denmark, Great Britain and the Netherlands competing for medals. Weihegold, Verdades and Cosmo will definitely be horses to watch, just to name a few.

Q: What does it mean to you that WEG has returned to the United States?
A: This will be only the second time that WEG will be held outside of Europe. Dressage enthusiasts will be able see the best horses and riders in the world compete at the largest equestrian event in the world, and I am excited to be a part of it. Many thanks need to be given to Mark Bellissimo and Tryon Equestrian Partners for stepping up to the challenge of hosting this event with such short notice. It is wonderful that we will be able to provide the opportunity for people to watch top level equestrian sport and to also promote equestrian sport in the US.

Q: Why Dressage? What draws you to it?
A: I have been involved in the management of Dressage events for many years and although I am not a rider, I really enjoy participating behind the scenes. I have developed many friendships with riders, trainers and officials over the years, and being able to help in this way is very rewarding. Many others find themselves drawn to the elegance, harmony of horse and rider using almost imperceptible cues, artistry of the movements within each test, and the strong emotional connections between athletes and their horses, and I do, but I'm also drawn to making it happen more than anything. I love making it happen.
Click here to visit our Dressage page and read more!